Virbac
Virbac Allerderm Spot On for Cats and Dogs <20kg SIS 6x2ml
Regular price
$320.00
Sale price
$346.00
Unit price
per
Allerderm Spot-On for Cats and Dogs
The only spot-on solution to help repair and restore the skin barrier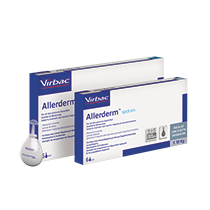 Allerderm Spot-on is a unique emulsion which helps to rebuild damaged skin and also soothe and moisturise irritated skin.
Designed for dogs and cats with a skin imbalance, Allerderm is a unique blend of cerumides and fatty acids which helps to restore the skin's natural defences. This, in turn, helps to reduce skin reactions caused by common allergies.
Product features :
Allerderm can be administered onto the skin with the easy to use spot-on applicator
Allerderm helps to repair the skin and enables the skin to maintain a normal structure.
Also for skin prone to discomfort and to help on the road to recovery.
Allerderm Spot-On for cats and dogs, comes in a pack of 6 x 2ml pipettes or 6 x 4ml pipettes for dogs over 10kg.
Product benefits :
Proven to help restore the epidermis in dogs and cats suffering from skin problems1
Directions For Use
To open: hold the pipette upright and twist off the top.
Part the dog's hair coat between the shoulder blades until skin is visible. Place the tip of the pipette directly in contact with the skin and squeeze gently to apply the contents to the skin. Repeat this procedure along the dog's back.
ALLERDERM® Spot-On may also be applied directly on problem skin areas and lesions.
INITIAL DOSE: One (1) pipette per week for 4 weeks. In severe cases, two to three (2 to 3) pipettes per week may be used, up to one per day if necessary.
MAINTENANCE DOSE: To prevent relapses, and for skin and hair coat health maintenance: one (1) pipette per month.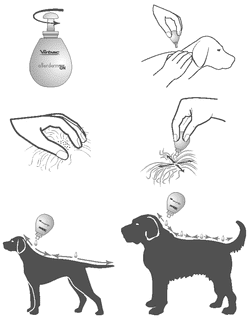 For best results apply after bathing, when the fur is completely dry.
---